Going into 2022, many MiLB operators described this season as the first "normal" season in three years.
By their explanation, the last normal season had been 2019, which was prior to the pandemic and before the massive reorganization of the minors in 2021.
The 2020 MiLB season was canceled because of the coronavirus pandemic. The 2021 season saw a delayed start because of the pandemic, many teams faced capacity restrictions and ticket sales were affected.
So the hope was that 2022 would be the point where teams would return to where they were in 2019, with full houses on big nights and much improved attendance numbers.
When compared to 2021, that was absolutely true. But now that the 2022 MiLB season is complete, MiLB teams have to hope that 2022 wasn't normal after all. Because if it was, then MiLB teams are operating at significantly reduced attendance levels from where they were pre-pandemic.
The 120 affiliated MiLB teams drew 30,916,465 fans during the 2022 season as reported by the teams themselves. That's up significantly from last year's 22,088,997 fans.
While it may have been a bump up from 2021, it was also a big dip from what teams have historically drawn. From 2005 to 2019, the 120 full-season MiLB clubs averaged between 33 and 35 million fans per season. The worst mark over those seasons was the 33,203,745 fans that came through the gates in 2018.
Those numbers are comparisons of apples to apples. MiLB's reported attendance numbers for 2005-2019 topped 40 million fans each and every year. But that included ticket-selling short-season and rookie ball teams as well as the Mexican League, which was affiliated with MiLB. MLB's reduction of the minors in 2021 from 160 to 120 ticket-selling teams has likely assured that the all-time MiLB attendance record of 43,263,740 fans, set in 2007, is a record that will likely never be broken.
On an average per game basis, MiLB clubs averaged 3,910 fans per game this year. That is up from the 3,205 fans per game who came through the gates in 2021, but from 2005 to 2019, MiLB full-season teams averaged more than 4,150 fans per game in every one of those 15 seasons.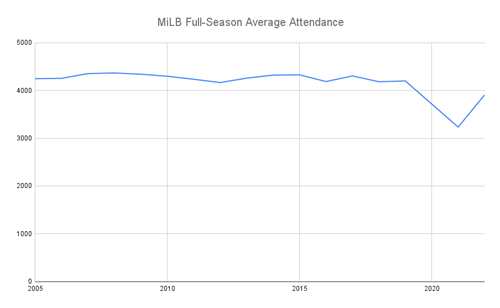 MiLB operators around the country said they believed the decrease is largely due to a dip in the group and corporate sales. While individual ticket sales seemed to have largely bounced back, multiple teams said they struggled to sell the same number of larger group packages. Other clubs said that season ticket sales have not yet bounced back…
Click Here to Read the Full Original Article at Baseball America RSS…